| MAURICE DAUMAS PRIZE : Call for articles 2013 | | |
| --- | --- | --- |
| | | |
Call for Articles [download as PDF file]
The International Committee for the History of Technology, ICOHTEC, welcomes submissions for its article prize, the Maurice Daumas Prize, which aims to encourage innovative and superbly written research in the history of technology. ICOHTEC is interested in the history of technology focusing on technological development as well as its relationship to science, society, economy, culture and the environment. The history of technology covers all periods of human history. There is no limitation as to theoretical or methodological approaches.
The Maurice Daumas Prize will be awarded to the best article submitted on the history of technology and published in a journal or edited volume in 2011 or 2012. Submissions are welcomed from junior and senior scholars of any country, and their focus can be the technological past of any part of the world.
Eligible for the prize are original articles published in any of the official ICOHTEC languages (English, French, German, Russian or Spanish). If the language of publication is not English, applicants should include a three-page English summary.
For the Maurice Daumas Prize 2013, please send your submission to each of the four Prize Committee members. Your submissions must be postmarked no later than 23 January 2013.
The submission should be accompanied by a CV. Applicants are free to add references or reviews of the work submitted. The winner will be contacted in early June 2013.
The prize will be awarded at our 40th Symposium, 22–28 July 2013 in Manchester, United Kingdom. The winner will receive a cash prize of Euro 500 as well as a travel grant of Euro 300 (if needed) to attend the ICOHTEC Symposium of 2013. Additionally, the ICOHTEC Symposium will feature a special panel organized around the winning article.
Send a complete application by regular mail or electronically as a pdf-file attachment to each of the following Article Prize Committee members:
Susan Schmidt Horning, Prof., Chair
Department of History
St. John's University
St. John Hall, Room 244N
8000 Utopia Parkway
Queens, NY 11439 USA
Email: schmidts@stjohns.edu


Andrew Butrica, Dr.,
Research History Group
Apt. 913-South
5225 Pooks Hill Road
Bethesda, MD 20814 USA



Email: abutrica@earthlink.net


Hermione Giffard
Independent Scholar


Email: hgiffard@gmail.com

Pierre Lamard, Prof.
Laboratoire RECITS
L'Université de Technologie
de Belfort-Montbéliard (UTBM)
F-90010 Belfort CEDEX France


Email: pierre.lamard@utbm.fr
Page updated: November 7, 2012
the news
Deadline extended 19 February !!!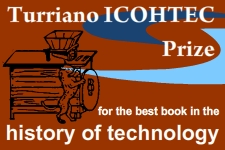 Send your research paper to ICON